Buying a car is one of the biggest financial commitments you make in your life. So how can Hyundai of Plymouth ensure your vehicle continues cruising throughout New England for years to come? Hyundai Assurance offers America's Best Warranty. Take a quick look at what makes Hyundai's warranty so great.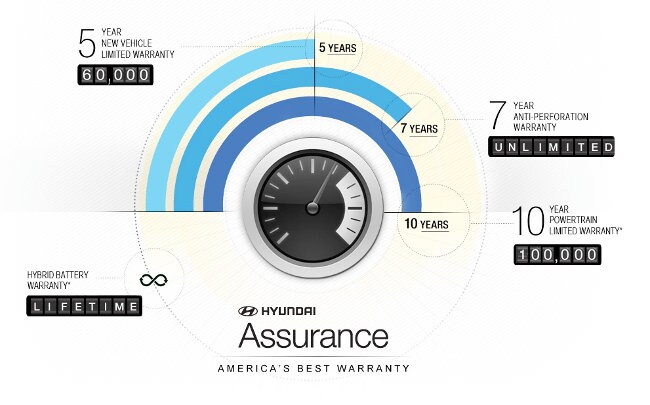 Longest Lasting Coverage of All
With a ten year/100,000 mile powertrain warranty, Hyundai Assurance offers nearly double the coverage of Toyota, Honda, Nissan, or even Lexus can. The powertrain warranty is also coupled with five year / unlimited mile 24-hour roadside assistance, and seven year anti-perforation warranty. Hybrid owners need not worry about battery depletion, as Hyundai Assurance includes a lifetime hybrid battery warranty to all original owners.
Hyundai Assurance Car Care
With Hyundai Assurance Car Care our factory-trained technicians will be more than happy to give your car a thorough checkup free of charge. Should one of our seasoned technicians find something amiss with your vehicle, you can have confidence that we only use 100 percent genuine Hyundai factory parts. OEM parts have been designed and manufactured specifically to ensure your car survives as long as possible. Hyundai also offers apps designed to provide instant assistance.
Staying Connected With Hyundai
The Hyundai Assurance Car Care mobile app allows you direct access to Hyundai Assurance Roadside Assistance, maintenance schedules, reference guides, and even a dealer locator. Hyundai owners with a vehicle from 2011 and on can have Hyundai Assurance right at their fingertips.
At Hyundai of Plymouth, we are proud to provide Hyundai Assurance Car Care. We are also proud to make your ownership experience even more convenient for you by providing Hyundai service coupons as well as parts coupons. If you have any questions, feel free to gives a call at (888) 480-3980 or fill out our online contact form.